How to Apply Affordable Housing Gurgaon
Apply Online Application for Affordable Housing Projects in Gurgaon, Sohna. Please Select Project. Select Unit Type. Application Full Name. Son/Wife/Daughter.
Huda Affordable Housing Online Application From On TCP Haryana Website Apply Online For E-Draw Application For Allotment of Dwelling Units Under Various AHP Policy.
On 1st July 2021, The Department Of Town & Country Planning Haryana Has Launched An Online Portal For Receiving Applications & Online Draw of Flats Under The Affordable Housing Policy. Now, The Application Will Be Able To Submit Their Application For Allotment Of Flats On The Portal : Https://Edraw.Tcpharyana.Gov.In
We Will Discuss Step By Step TCP Haryana Application Form Process :
Required Documents
Email
Phone
Aadhar Card
Pan Card
Passport Size Photo
Bank Account Details
Affidavit
Get Exclusive Support Minimum Cost : +91 93108 72718
( 99% Chance Of Application Approval & Refund Support )
Affordable Housing Projects Apply Process
First Step: Go To https://edraw.tcpharyana.gov.in/tcp-dms/home
If You Are Apply For The Time Then Click On User Registration. Otherwise, Click On Login.
When You Click On User Registration. Then Fill up the Applicant Details. & Then Fill Up The Captcha & Click On Register Button.
Then You Will Get OTP on Your Phone & Email. When You Submit Your OTP Then Automatically Open a Window For Your Address, Pan Card Number, & Bank Account Details. Then You Enter Your Address As Per Your Government ID & Then Enter Your Plan Number After That Enter The Applicant Bank Account Details & Click On Register.
You Enter OTP Here Then You Will Get Address & Other Details Window :
Next Step
When You Fill Up Your Detail Completely Then Click On The Check Box & Agree With the Term & Conditions.
After That Click On The Register Button Then You Get The Document Window. Upload The Soft Copy Of The KYC Document There.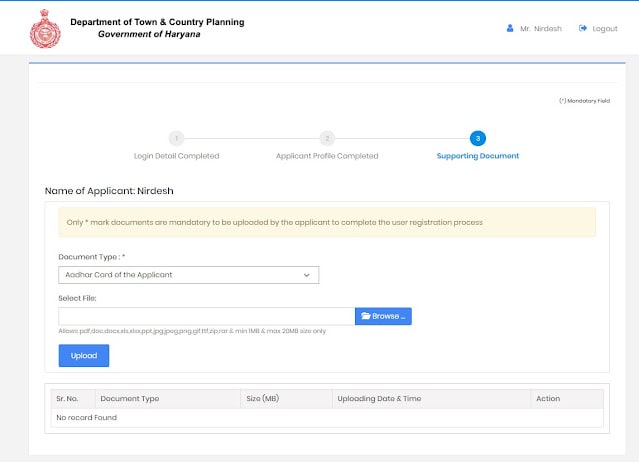 When You Upload Your Document Soft Copy Then Click On Submit Button.
Click Here More Details or Support :